Welcome!

Welcome to Promotional Dallas!

We've developed this site with you in mind. Our goal is to give you the most local options for promotional products in all of the Dallas Fort Worth area. We have great suppliers all across the country, but believe in printing and producing locally whenever possible. We feel so strongly about this that when you are searching for product you can see where the product ships from. Whether is this great state of Texas, or Florida or California or anywhere in between you will be able to decide if you want to order it or not based on it's ship-from point.

The vast majority of times we ship direct from the manufacturer to you. This saves time, money, and the environment by reducing the amount of freight in transit. We also guarantee our orders so if there's anything wrong, anything you don't like we will take back the order at no charge and make it right. Just so you know our offices are actually located in NYC and Toronto, but your product will ship direct to you.

How much variety do we have? Well, there are over 100,000 products on our site, updated daily, for you to choose from. Please click on the links to the left to search.

Don't want to search? You're too busy and you have better things to do? Well let us do it for you! We have the time and this is all we do. Email is at quotes@promotionaldallas.com with a little information about yourself, your project, and what you're hoping to accomplish and we'll send you back some ideas the same day!

Thanks for checking out our site, and please don't hesitate to get in touch!

Contact: quotes@promotionaldallas.com


Featured Item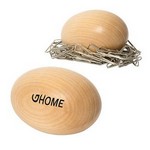 Magnetic Keep'em Egg
1.75" W x 2.5" H x 1.75" D - Maple Wood - Includes 50 paper clips that magnetically attach to the egg - When placed on your desk it looks like an egg sitting in a nest - A cute and whimsical promotion...

Signature Showrooms